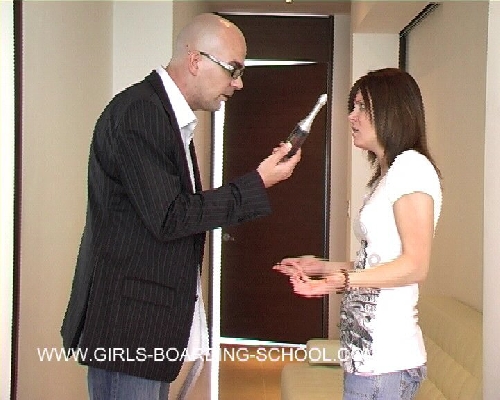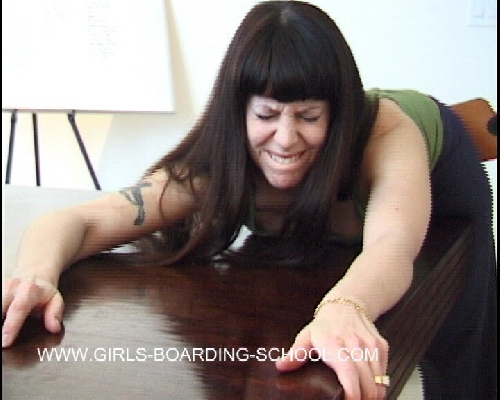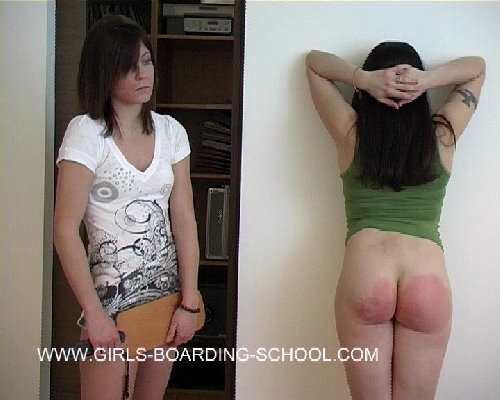 Not Mine
Beverly is seeking revenge on her friend Abi. She still believes that Abi tricked her into coming to Girls Boarding School – but Abi did it with the intention of helping Beverly to straighten out her life.
So, Beverly knocks on Headmaster Tom's door and enters his office when he shouts to her to come in. He sends her back out of the room to remove her trousers and knickers before coming in to see him.
She explains why she thought it necessary to come and see him. She holds out a vibrator telling him she found it in Abi's handbag. The girls at Girls Boarding School are forbidden to do anything that is pleasurable to themselves.
He is disgusted when she explains to him what it is. He thinks it is some kind of coffee stirrer.
Calling for Abi – he pulls her into his office closing the door behind him. She is protesting that it is not her vibrator, but he's not in the mood for listening to her. There is the sound of the leather paddle being applied to her bare bottom – amid her shrieks of pain,
Once her spanking is over, she goes looking for her trouble making friend.
Eventually, Beverly agrees to go and confess to Headmaster Tom – as long as Abi can actually do the spanking. Her thinking is that if Abi does it – it won't be as painful as it would be if he does the spanking.
Now he is furious with Beverly for being a liar and getting poor Abi into trouble.
He sends her out of the room to put her trousers back on. This puzzles Abi as she was spanked on the bare.
However, there is method in his madness – as he tells her, she will probably hit her friend with the leather paddle, harder than she would if her bottom was bare.
After twenty severe strokes of the paddle, Beverly is told to take down her trousers for a final five on her already sore red bare bottom.
Abi is happy that justice has been done, so she leaves the room.
Beverly is standing with her hands on her head facing the wall. Headmaster Tom tells her she is to stand like that for three hours – if she moves in the slightest way he will start the punishment again.